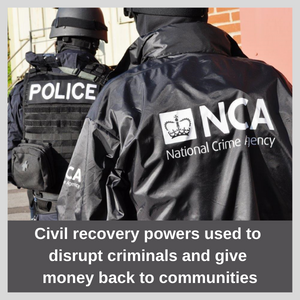 Programme investment has enabled the Paramilitary Crime Task Force (PCTF), a co-located Law Enforcement partnership incorporating Police, the National Crime Agency (NCA) and HM Revenue and Customs (HMRC) to focus on paramilitary related criminality.
The creation of the PCTF in 2017 allows each partner agency to exercise their own bespoke powers, but it also allows them to work collectively, sharing capacity and capability to more effectively tackle the threats that come from paramilitary linked organised crime. One such power is the ability to recover assets which are the proceeds of crime through the NCA's Civil Recovery & Tax (CRT) team. Billy Beattie from NCA explains more:
"CRT was introduced in the Proceeds of Crime Act 2002 and offers us an alternative option to disrupt and deter criminals by targeting the proceeds of crime where a prosecution is not possible.
"The burden of proof is lower with civil recovery and if a judge rules against the subject, it not only takes away their wealth, assets and standing, it can significantly reduce their ability to operate. Importantly, it is not necessary to link assets to a specific crime; as long as it can be shown to have been acquired through, or in return for, unlawful conduct. Profits on criminal assets can also be recovered.
"We will use whatever powers are available to us to maximise disruption of these criminal gangs. CRT can be useful when it is not feasible to secure a criminal conviction. That means we can still pursue a criminal even if the criminality is overseas, the suspect is deceased or absconded, there is insufficient evidence to a criminal standard or the proceeds of crime cannot be linked to a specific offence. It can also be helpful where a conviction may be feasible but the use of civil recovery powers may better serve the public interest, or where a conviction has been obtained but a confiscation order was not made.
"Recovered assets are sold and the monies used to fund vital public services. It is important that the public sees Law Enforcement target and disrupt criminals who exploit vulnerable people and communities and CRT is another tool for us to use in achieving that."